When booking, you can also immediately book the return trip.
To do so provide us with: date, flight number, time and mobile phone number.
Safely home from a night out, from or to the airport or group transport inside and outside the city, HTMC takes you quickly and comfortably to your destination. We only work with well-trained, qualified drivers, so you can expect a reliable and safe service. With our fleet of 150 taxis, we are the largest in The Hague region, which means we respond quickly and accurately to emergency requests.
HTMC also has 100% electric cars!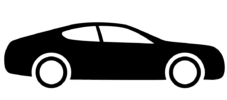 Order online
Get a cab online.
Airport Cab
Planning a (business) trip or family holiday?  HTMC-taxi will drive you quickly and safely to the airport or back home at all times. With a fixed rate clarified beforehand.
FEEL FREE TO CONTACT US
Did you forget something in a cab, do you have any questions or, despite our best efforts, still have a complaint about a cab ride? Please feel free to contact us by mail or telephone.
Seniors Discount



If you are 65 or older, you may purchase a senior citizens card with the HTMC. For every amount above € 8.33 you will receive a 10% discount.
This action can not be combined with other offers
Group transport
Do you need transport for a group of colleagues, business partners, the elderly or children from one location to another in or outside the city? The HTMC offers luxury buses that can accommodate up to eight people. Preferably booked in advance.
We are pleased to transport guests for: